Twentieth-century Poetry in English
Nothing that is worth doing can be achieved in our lifetime; therefore we must be saved by hope. Nothing which is true or beautiful or good makes complete sense in any immediate context of history; therefore we must be saved by faith. Nothing we do, however virtuous, can be accomplished alone; therefore we must be saved by love. (Reinhold Niebuhr)1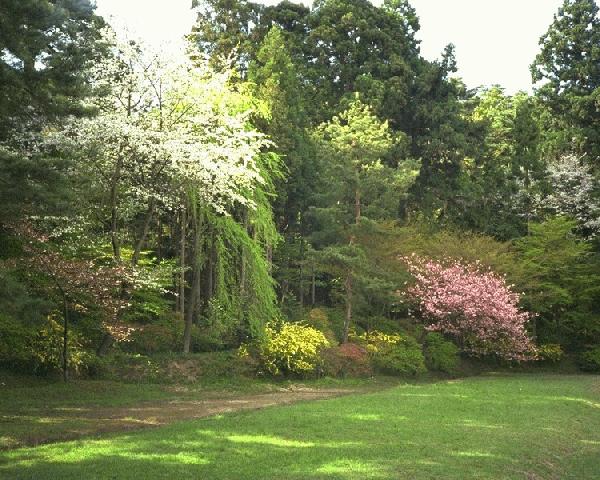 Motsuji Temple, Hiraizumi. Photograph taken by David Leong. From Japan.JPG CD-ROM (Walnut Creek).
I've collected Internet information relating to 116 poets, for 11 of whom I've created my own pages, and for the rest of whom a large index page, 'Poet Links', which adds some new entries each month; also I've created a page of related links:
My Poet Pages | Poet Links | Related Links

If you are searching for a poem, my tips might be of help to you. You might also try various search engines. For example, you might try MetaCrawler.
---
OTHER PAGES
Poet Links
Internet resources on 116 poets writing in English
Related Links
Internet resources relating to poetry in general
---
Awards
January 2000 - My site was selected by Britannica.com as one of the best on the Internet when reviewed for quality, accuracy of content, presentation and usability.
April 1999 - This page was included in BookSearchEngine - the first portal focused on books, writing, and related websites. Over 100,000 websites have been catalogued, categorized, and also given titles and descriptions. In addition, the portal provides a search and price comparison service for books, utilizing 48 bookstores around the world. My page may be found under the category path - Poetry:Guides.
April 1999 - My Frost page and Stevens page were included in the collection of educational web pages at Webivore Knowledge Systems. This collection is an index of the best web sites found and reviewed by their content experts and editors to help students and educators find accurate and useful information on the web. You can read their reviews on my pages by searching at their site, either through Classroom Webivore or through College Webivore, specifying 'US Literature', '20th Century', and then 'Poetry'. You can see its graphic.
February 1999 - My Pound page was designated a Cool Site in the Netscape Open Directory Arts/Literature/Poetry/Poets/P/Pound,_Ezra category at http://dmoz.org/Arts/Literature/Poetry/Poets/P/Pound,_Ezra/. You can see its graphic.
December 1998 - This page was included in Launch Point, the Los Angeles Times collection of educational Web sites.
January 1997 - This page, along with my pages on Auden, Crane, Frost, Lowell, Moore, Pound, Stevens, Williams, was given The Editor's Choice Award by LookSmart. You can see the Editor's Choice symbol, where you can find the categories under which they are listed.
Note on URLs: Sometimes the URLs listed here may be obsolete. Please let me know if you find any. In general, the owner leaves a moving notice at the old URL; otherwise try a directory one level higher, from where you might follow the newly introduced links.
I've received many inquiries about identifying a poem/poet. Unfortunately, at the moment, I have practically no time to answer individual questions. I would think you'll find better luck with mailing lists, where there are a great number of knowledgeable persons. :)
If you are looking for online bookshops, my collection might be of help to you.
Please note that these pages, with accented characters, are best viewed with a Latin character set, such as Arial.
Note on linking: There is no need to ask permission to include my site as a link. However, a note of the URL where a link to my site appears will be appreciated.
---
The following links are related to my recent research and educational activities. They are in Japanese except where noted.
---

1 Reinhold Niebuhr (1892-1971): American theologian, author of The Nature and Destiny of Man (1941-43). This quotation cited in Thomas Cahill, How the Irish Saved Civilization (1995: rpt. New York: Anchor Books, 1996), p. vii. (According to Bartlett's Familiar Quotations, 16th ed., 1992, it is from Niebuhr's 1952 book The Irony of American History.) [Back to Top]

Last updated: 3 March 2006

Quid prodest hoc ad aeternitatem
Professor Eiichi Hishikawa
Faculty of Letters, Kobe University
Website Home