My Poet Pages | Poet Links
Hart Crane (1899-1932)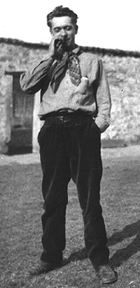 Photographed by Harry Crosby, Le Moulin, 1929.
(Photographs, Caresse Crosby Papers, Southern Illinois U at Carbondale's Library Affairs Showcase)
Used by permission


	What laughing chains the water wove and threw!
	I learned to catch the trout's moon whisper; I
	Drifted how many hours I never knew,
	But, watching, saw that fleet young crescent die,---

	And one star, swinging, take its place, alone,
	Cupped in the larches of the mountain pass ---
	Until, immortally, it bled into the dawn.
	I left my sleek boat nibbling margin grass. . .	

	[(from "The Dance") The Bridge]
	Copyright (c) 1970 Liveright Publishing Corporation

Biographical Notes
Born July 21, 1899, Ohio
Died Apr. 27, 1932 (suicidal jump from a steamer home from Mexico, where he had been on a Guggenheim Fellowship)
2 volumes of poetry published in his lifetime: White Buildings (1926), and The Bridge (1930), winning the annual Poetry award in 1930
Influenced by: Walt Whitman, T. S. Eliot, and Ezra Pound (surprise?)
For biographical aspects and some interesting comments by Derek Walcott on Crane's prosody, Voices & Visions video "Hart Crane" from Mystic Fire Video might be of some help.
Bibliography
Bennett, M.F., Unfractioned Idiom: Hart Crane and Modernism (1987)
Brunner, E.J., Splendid Failure: Hart Crane and the Making of The Bridge (1985)
Butterfield, R. W., The Broken Arc: A Study of Hart Crane (1969)
Crane, Hart, The Complete Poems and Selected Letters and Prose of Hart Crane, ed. by Brom Weber (1966)
Crane, Hart, The Bridge, commentaries by Waldo Frank and Thomas A. Vogler (NY: Liveright, 1970)
Dickie, Margaret, On the Modernist Long Poem (Iowa: U of Iowa Press, 1986) ch. 3
Edelman, Lee, Transmemberment of Song: Hart Crane's Anatomies of Rhetoric and Desire (1987)
Giles, Paul, Hart Crane: The Contexts of The Bridge (Cambridge: Cambridge UP, 1986)
Koga, Tetsuo, "Can History Defeat Our Human Passion? --An Essay on Hart Crane's 'Voyages' (I, II)" Jinbun Kenkyu (Faculty of Letters, Osaka City U) (1994, '95)
Unterecker, John, Voyager: A Life of Hart Crane (1969; repr. 1987)
Uroff, M. D., Hart Crane: The Patterns of His Poetry (1974)
I've compiled the above information referring to some standard reference materials, including The Oxford Companion to American Literature, Grolier Encyclopedia, etc.
Some Notes on The Bridge
Interlinear Readings of The Bridge
---
Related Link
---
Samuel Greenberg: American Poet
Biography, Greenberg's prose "Between Historical Life," bibliography, e-text of 26 poems, facsimiles of 2 poems (handwritten manuscript versions), info on New York city with 3 maps of the areas where he lived, info on Hart Crane who was greatly influenced by Greenberg's poems. According to Mr. Michael L. Smith, who maintains the site, "Crane's poem "Emblems of Conduct" is actually a mosaic of slightly-altered lines taken from six of Greenberg's poems."
---
Last updated: 21 June 2000

Note: This page is for reference purpose only. As I can't afford to update it, I no longer list it in the index page.

20th-century Poetry Index Page
Quid prodest hoc ad aeternitatem
Professor Eiichi Hishikawa
Faculty of Letters, Kobe University