HOME > Research Programs > Fusion Program of the Interdisciplinary Humanities
JSPS Program for Enhancing Systematic Education in Graduate Schools


Fusion Program of the Interdisciplinary Humanities
Purpose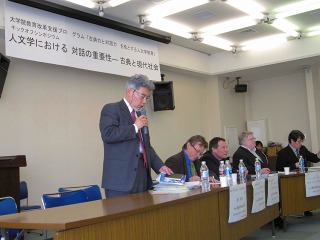 The fluctuations and frictions of cultural/political institutions have been crucial issues in contemporary society. We cannot solve the problems solely by understanding the surface conditions and by treating them superficially. We need the abilities to review the essence of the problems, to counteract the growing fragmentation of academia, and to find practical solutions.
In the above-mentioned condition, we need fundamental knowledge across disciplines in the Humanities: "the mastery of interdisciplinary classics." In addition, we need the ability to 'dialogue' with other disciplines and communities: "the mastery of interdisciplinary dialogue." For the purpose of cultivating these abilities, "The Fusion Program of the Interdisciplinary Humanities," integrating theoretical researche and practical fieldwork, is to be launched.
Features of the Program
The master course emphasizes the cultivation of "mastery of interdisciplinary classics" and "mastery of interdisciplinary dialogue," both of which are fundamental for an education in the Humanities. The doctoral course further develops not only "mastery of interdisciplinary classics" but also "mastery of interdisciplinary dialogue": the abilities to reach out and share the students' achievements in the Humanities with the community and to accomplish high-level academic communication which leads to advanced methods and theories of researche in the Humanities. This program aims at establishing a unique education system integrating fieldworks and theoretical research, and consequently produces the human resources that respond to the need of society.
Four "venues" – "classics seminars," "forums," "colloquiums" and "community outreach saloons" ­– provide the students with the opportunities to cultivate, practice, and develop the aforementioned abilities. This program specifically features small-class education utilizing "tutorials" and "communication papers."
Prospective Human Resources Produced by the Program
The students in the master course are trained to become journalists or teachers with advanced skills and knowledge of interdisciplinary Humanities.
The students in the doctoral course are trained to cultivate high-level scholarly ability which enables them to research independently.
This program graduates three kinds of global community leaders:
Researchers who can find new subject matters and develop new research methods within the Humanities .
Effective university teachers in liberal arts education.
Highly educated professionals such as curators and journalists.