HOME > Education > Educational Process
Educational Process
In each area of specialization, the instructional content of each year is stated, and students are encouraged to acquire it thoroughly.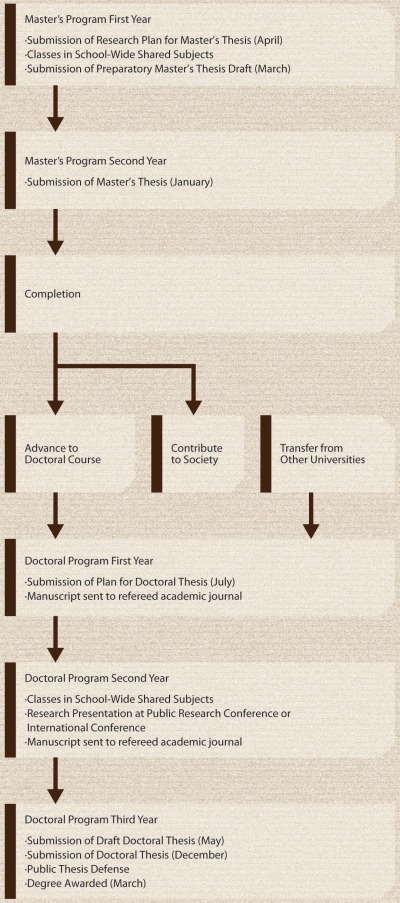 Educational Process
The Unity of the Humanities
Through deepening the awareness of the shared problems of the humanities as a whole, we offer an educational program that leads to a clearer recognition of the unity of the humanities. Especially in the doctoral program, by providing a place for interdisciplinary research exchange, we strengthen the students' ability to design and propose research that transcends the traditional academic boundaries.
A New Response to Students with Master's Degrees
In order to help students realize the social significance of the humanities, we have established a practical educational program. Especially for students who have acquired master's degrees, we emphasize practical abilities that support the knowledge-based society in the midst of the internationalization of Japan. For that purpose we utilize the school-wide shared courses entitled Seminar in Japanese Society and Culture, Seminar for academic exchange of Port Cities Studies, Practical Seminar in Local History Heritage, Research on Innovative Ethics, etc.
The Learning Process
Each year, students take classes related to their specialized field. In this way, they acquire and improve the basic knowledge, skills, and language ability necessary for advancing their research in their specialized field. Each year, students take either the Master's Thesis Guidance Seminar or the Doctoral Thesis Guidance Seminar.